Announcing my first introductions!
At some point you just have to take the plunge and go for it.

Click on the photos for a larger view.
H. Missy's Smile ~ Missy's Smile is named for a great friend who lost her battle with breast cancer last year. Tetraploid. Out of H. Victorian Days x H. Hearts and Flowers, it is rose pink with a peach watermark and a yellow throat. Color is more intense in the morning and lightens a bit into the afternoon. Bloom mid-season and reblooms well. Foliage is evergreen. Bloom is 6.25" on a 32" scape.
Fertile both ways. $15/df

H. Monticello Magic ~ This diploid cascading UF is out of a seedling x H. Emmaus. Evergreen, this mid-late season rebloomer is peach with a rose chevron eye over a green throat. Blooms measure 7.5" on 30" scapes. This one is really impressive in a clump. Pollen fertile. Sold out.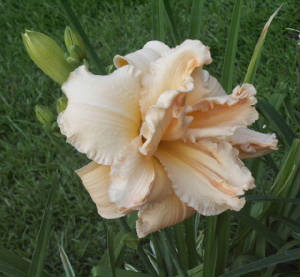 H. Monticello Melody ~ Monticello Melody is a diploid double (99%). Semi-evergreen in my garden, it will be dormant in the north. The
cross is (Dublin Elaine x sdling) x Time to See, yielding a pale peach blossom over a green throat. Bloom is 5" on a 26" scape, blooming mid-season. Pollen fertile. $10/df
H. Monticello Mist ~ This diploid double is a baby pink with a large yellow to green throat, which doubles about 85% of the time. It's cross was (Dublin Elaine x seedling) x Barbara Mitchell. A mid-season rebloomer, the flowers measure 5" on a 22" scape. Dormant, it is fertile both ways. $10/df